Research Details:
One of the most interesting sets of results came from a cohort of three general biology classrooms. In the final year of implementation, roughly half the students in these three classes were identified as having learning or behavioral disabilities. Ms. H, a first-year teacher, taught two classes using GenScope, one with Dragon Investigations and one without. Ms. F, a very experienced biology teacher, was recruited to provide a comparison classroom. This class didn't use GenScope or Dragon Investigations. In all other respects, the two teachers used the same curriculum and adopted the same learning goals.
The following figure shows the results.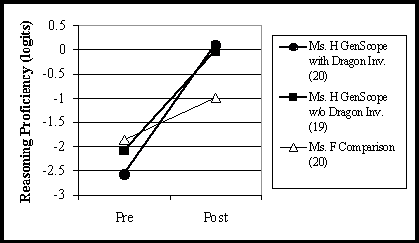 As you can see, the GenScope classes fared considerably better than the comparison class on the NewWorm assessment. This difference was statistically significant. Furthermore, the GenScope class that used the Dragon Investigations had higher gains than any other in the three-year study. For further detail, click here.